. ineerind was developed out a design used initially for the Severn Bridge near Bristol,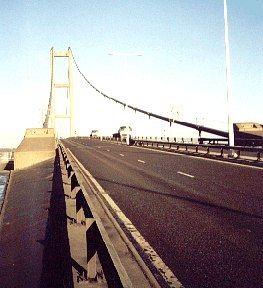 Until recently the bridge linking the north and south banks of the River Humber
~ was the longest single span suspention bridge in the world.
Construction on the bridge began in 1972 and the bridge opened to traffic in 1981.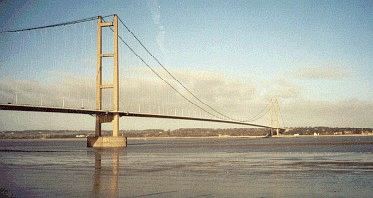 The piers are reinforced concrete structures which support the towers.
The Barton pier is actually located in the river some 500 metres from the south
bank and founded in Kimmerage clay about 36m below the level of the river bed.

SOME dubbed it the "Eighth Wonder of the World" - others were less kind.
But few would argue about the amazing engineering feat that is the Humber Bridge.
It took more than 100 years to build it. Decades of wrangling in the town and
county halls ~ and even Parliament ~ finally ending on April 30, 1969.
In a short announcement to the House of Commons, ecornomic
affairs secretary Peter Shore accepted that, wihout a bridge,
neither bank of the Humber had necessary potential to expand.


The road deck was built in 124 seperate units,
each floated upstream to a position for lifting into place
Main span between piers 1,410m (4,626ft)
Total length between anchorages 2,220m (7,284ft)
Total length of wire used 71,000km (44,000miles)
Weight of deck structure 16,500 tonnes
Total weight of concrete 480,000 tonnes
Summary
The bridge towers on each bank of the Humber are 36mm (1.4in) further
apart at the top than at the bottom. This has been done to take
account of the curvature of the earth. Construction of the bridge took eight
years - twice as long as was envisaged when work began in 1973.
The bridge moves constantly. It bends 10ft in the middle in winds of 80mph.
And its towers bend inwardly at the top. The main cables contain 11,000 tonnes of
steel wire - enough to stretch one and a half times round the world, a
total of 41,000 miles . Each wire is about 5mm in diameter - about
the thickness of a pencil. The main span if 4,626ft, while the side
spans are 919ft on the north bank and 1,739ft on the south.
A total of 472,400 tons of concrete were used in the project.

Other bridges of the world
| | | |
| --- | --- | --- |
| Bridge Name | Span | Country |
| Akashi Kaikyo | 1991 | Japan |
| Great Belt Bridge | 1624 | Denmark |
| Humber | 1410 | UK |
| Jiangyin | 1385 | Japan |
| Tsing Ma | 1377 | China |
| Verazano Narrows | 1298 | USA |
| Golden Gate | 1280 | USA |
| Hoga Kusten | 1210 | Sweden |
| Mackinic | 1158 | USA |
| Minami Bisan-Seto | 1100 | Japan |
| Fatih Sultan Mehmet | 1090 | Turkey |
| George Washington | 1067 | USA |
| Kurushima-3 | 1030 | Japan |
| Kurushima-2 | 1020 | Japan |
| Forth Road | 1006 | UK |
| Kita Bisan Seto | 1006 | Japan |
| Severn | 988 | UK |
| Shimutsui Seto | 940 | Japan |